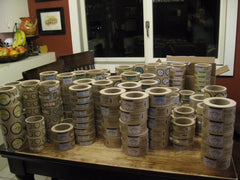 We have been hard at work re-creating our labels and website to make our products easier to find and more accessible for you. In fact, this entire process has taken over a year by the time it was all said and done. Whew!
Our mission is to offer great natural products that you and your family can use and feel good about. We have carefully chosen and formulated each and every product with our own children and family in mind, so you can feel confident knowing we put our best in everything we make. We always create in small batches so our quality control is top notch. Customer service? Superb. Quick shipping? Check. Safe, skin loving ingredients? You betcha.
I will be using this blog platform to share information about a ton of cool things, so make sure to follow us and be in the know! Speaking of being in the know, did you know that we are offering FREE SHIPPING now through June 20?Get the special code from our Facebook page and enjoy free shipping now through June 20, 2015.
https://www.facebook.com/CindysSuds
See, now you know!
More soon!
All my best,
Cindy