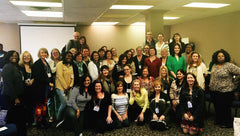 I just returned home from an amazing and energizing weekend! I traveled to Nashville, along with 40 other women, to sit under the teaching of 4 incredible business mentors. These 4 mentors are major players in the bath & body and entrepreneurial arenas and all have serious accolades and awards attached to their names. These wonderful ladies - Lela Barker of Lucky Break Consulting and Bella Lucce, Donna Maria Coles Johnson of Indie Business Network, Anne-Marie Faiola of Bramble Berry, and Kayla Fioravanti of Selah Press – hosted a 2 day conference, 2X4Live, to pour into the lives of business women and bless us with their wisdom and knowledge. Day one was rich with panel discussions and lectures. Day two was thoughtfully intense as we broke into small groups hosted by each mentor. We really dug into our businesses and did some seriously deep brainstorming and planning. Hard work but really good stuff.
For the last year, I've been involved in an online business coaching community and have met many wonderful women through this group. It's amazing how you can consider people you've never met in person among your closest friends. We all get each other because of the experiences we've shared and supported in each other's lives and businesses. I had the privilege of connecting in person with 4 of these women. Spending the last few days together with them has been truly life giving for me. I love these girls and it was so great to hug them and see them in person. These women are a part of my journey and will be life long friends. I also connected with several other women who I know will become a part of my community and I can't wait to develop these relationships as well.
What does community look like in your life? My sister with quadruplets joined a Facebook group of "mom's with quads" when she was pregnant. Now these 5 or 6 ladies meet yearly in addition to "talking" daily on their group page. These moms go through experiences that no other mom goes through. They get each other. How about you? Who gets you? Maybe you have a couple toddlers running around and MOPS has been your saving grace. Maybe you have a child with special needs and routinely check in with other families going through the same circumstances. Do you suffer from fibromyalgia? Your group might be the only ones who truly understand the pain and frustration. Homeschool your kids? I know our homeschool group has been sanity saving for me.
I am so thankful to have an incredibly supportive husband and family along with many close friends who believe in me and encourage my work. I am so grateful for these people who walk everyday life with me. However, I am equally thankful for my core group of friends that I have through my coaching community. We support each other in the big wins and encourage each other in the dips and disappointments of being an entrepreneur and business owner.
There is so much comfort and relief in knowing that there are other people out there that really get you. We were never meant to walk this journey alone, no matter what stage in life you are in. We were created for community.
What groups are you a part of? I would love to hear how your community of friends has improved your life.
Mentors extraordinaire! Lela Barker, Donna Maria Coles Johnson, Anne Marie Faiola and Kayla Fioravanti
These are my girls! From L-R, Lisa T, me, Rachel, Lisa B and Stacia.