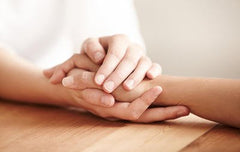 I received a text this morning that made my heart drop. Kate, the daughter of a friend of mine, had just passed away. She was 22. She developed a rare kind of cancer 2 1/2  years ago and has been fighting ever since.
              <Pause>
What do you even do with grief like that? How can my friend and her family survive that kind of pain?
The phrase on the top of their Christmas card this year simply stated, "Love is Everything". And that's exactly how they will go on. They loved their children. They enjoyed spending time together as a family. Kate loved life. She loved her family and she loved her friends. They will go on in honor of Kate.
There are times when life just doesn't make sense. This is one of those times. On this day when my heart is so heavy for my friend, I want to encourage all of us to be the best examples of love we can be. Love your spouse. Love your kids. Love your friends.
Give of yourself fully, because love is the only thing we can truly give to one other. We may never understand loss and sadness in this life, but there is One who does, and through Him, I have hope. "And now these three remain: faith, hope and love. But the greatest of these is love." 1 Cor 13:13.
Today I pledge to love a little harder, because in the end, love is everything.
Love well, my friends.