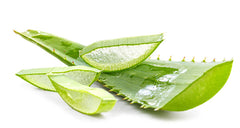 Do you love our Body Butter? You're not alone! We love it, too, and are proud to say that our formula contains only six natural ingredients – all of them pronounceable!
I want to shed some light on the main ingredient in our Body Butter – Aloe Vera – because it's such an amazing product with so many benefits. Here are just a few.
Did you know…
Aloe Vera is one of the oldest mentioned plants on record due to its medical properties and health benefits
Ancient Chinese and Egyptians used aloe Vera to treat burns, wounds and reduce fever
Benefits of Aloe Vera

Treats sunburn

Aloe Vera has strong healing activity on the epithelial layer of the skin and can add a protective and moisturizing layer to it

Moisturizes skin

Aloe Vera can moisturize without giving a greasy feeling, making it perfect for anyone with an oily complexion

Treats acne

Aloe Vera contains two hormones, auxin and gibberellins, which bring healing and anti-inflammatory properties to the skin that reduce inflammation and encourage growth of new cells

Fights aging

Aloe Vera contains a plethora of antioxidants including beta carotene, vitamin C and vitamin E

Nutrient rich for good health

Aloe Vera contains over 75 nutrients including many vitamins, minerals, enzymes and amino acids
With so many good things in our Body Butter (and so many bad things NOT in our Body Butter), you can feel good about using it all over your body and face. And with such simple and natural ingredients, you can be sure it's safe for babies and children, too.
Now that you know more about the goodness of Aloe Vera, you can see why we put this ingredient at the top of our formulating list!