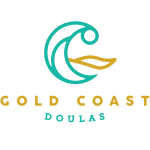 Cindy's Suds recently co-sponsored Gold Coast Doula's in order to spread the word about the importance of choosing natural body, bath and home products. We felt like partnering with a company with so many similarities would be a win-win for the families we serve. Both Cindy's Suds and Gold Coast Doula's are women owned, and we both love teaching and encouraging families where they're at and in whatever stage of life they are in.  At the heart of both of our companies, we're educators and nurturers and we're deeply passionate about the family. 
I asked Alyssa Veneklase, co-owner of Gold Coast Doula's, to describe what a doula is to those of us who aren't exactly sure. We may have some general ideas, but their scope of practice was much broader and more far-reaching than I had originally thought. Here is Alyssa's response to the common inquiry about what a doula is and what she and her team actually do.
So, you're a doula?
As doulas, we hear it all. Some people think we are midwives and "catch babies". Others think we only support women who want to have babies naked in the woods, biting on a stick. Neither are true.
Let me break it down for you.
The term doula is an old one. It's been around for centuries and is actually a Greek word that is a "woman who serves". There are several types of doulas who all support women and families in different ways.
Bedrest Doulas (or antepartum doulas):
A bedrest doula supports women who are considered high-risk and put on bedrest either at home or in the hospital. They can help with baby registries, organization, setting up a nursery, packing a hospital bag, light housekeeping, meal prep, running errands, and accompanying a mother to doctor appointments. They can also help with birth plans and offer resources such as in-home childbirth education, breastfeeding classes, and postpartum planning.
Birth Doulas:
A birth doula offers physical, informational, and emotional support for a woman (and often times her partner) during labor and delivery, and immediately after baby is born. There is also a postpartum visit within 14 days after baby arrives. The birth doulas at Gold Coast also offer support during pregnancy through 24/7 phone and email support. Anything medical is outside of a doulas scope, so they cannot "catch babies". A couple can decide to hire a doula for support and an OB or midwife to deliver the baby. Very often, we work together as a team in homes and hospitals.
Postpartum Doulas:
Postpartum doulas support families in their home after baby is born. Daytime support includes mother/baby bonding techniques, basic breastfeeding support, emotional support, access to local mothers groups and resources, light housekeeping, help with older siblings, and meal prep. Overnight support allows the parents to get a full night's rest by taking over the midnight feedings. If a mother is breastfeeding, the doula can bring the baby to the mother to nurse, then take her back to the nursery to burp, change diaper, and get back to sleep.
At Gold Coast Doulas we provide judgment-free support to every family we work with. That means hospital births and home births. Attachment parenting styles and schedulers. Co-sleepers and crib sleepers. Single mom or two dads.
The common misconception is that a doula will only work with families that want all-natural deliveries. While this may have been the case in the past, and may still be the case for some, it is not the norm, and certainly is not the case for Gold Coast.
We take great care to form partnerships with our local hospitals; meeting with them to talk about the natural birthing suites for clients that want natural delivers and Operating Room policies for those planning a cesarean birth. We also take great care to nurture relationships we have with local Obstetricians and midwives.
Bottom line - Gold Coast Doulas are here to support your family no matter what it looks like.
Contact us today to find out how we can support you. In addition to doula support, we also offer several classes including Newborn Survival, HypnoBirthing, Preparing for Multiples, The Modern Grandparent, and Breastfeeding. We also have a placenta encapsulator and Infant Massage Instructor.
Alyssa Veneklase is a postpartum doula and Co-Owner of Gold Coast Doulas. She lives in Grand Rapids with her husband and daughter.
info@goldcoastdoulas.com